SHARE specializes in healthcare
SHARE is a non-profit organization that focuses exclusively on global health issues. Founded in 1983, primarily by healthcare providers, SHARE emphasizes the importance of mutual learning and cooperation in tackling health issues around the world. Through collaboration with other NGOs as well as local volunteer members, SHARE provides assistance to those with limited access to health services both in order to improve their health situations and help them become educated about relevant health issues.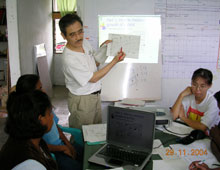 Photo:Dr. Honda teaching how to take care of pediatric health.
SHARE is a community-based NGO 
Since its commencement, SHARE has been sending Japanese experts--both in healthcare and social development--abroad for health related projects. Working together with local volunteers and health professionals, these experts strive to educate local populations regarding health issues and provide necessary medical services to those in need. SHARE's strong emphasis on community collaboration and teamwork is also reflected in its effort to educate Japanese society about health issues in developing countries, as well as its efforts to steer Japan's international assistance policy to reflect a more sympathetic view of circumstances in developing countries.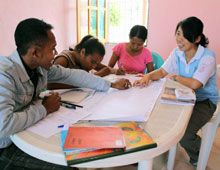 Photo: Working together with local stuff.
SHARE focuses on both long-term development and emergency relief
The members of SHARE focus on assisting and training local volunteers in the hope of establishing a self-sustaining, long-term healthcare system. Thus, SHARE traditionally focuses on long-term programs intended to ensure the development of basic health care services and improve the health of local people.
In addition, when emergencies such as natural disasters and civil wars severely depress a governments' ability to provide healthcare, SHARE provides immediate and direct care through its emergency relief programs. When such situations arise, SHARE's members work as a team to design a program which produces quick and effective results but can be taken over by local people in the long term.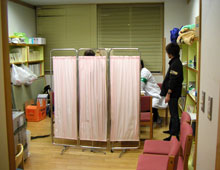 Photo: Temporary consultation room inside the local library, The Niigata chuetsu earth quake emergency relief.
Confronting HIV/AIDS
In recent years, HIV/AIDS has become a major health-related concern in developing countries. In light of its increasing prevalence, SHARE has expanded its activities to include HIV/AIDS education and prevention in Thailand, Cambodia, and South Africa. Not only does SHARE provide HIV prevention education programs, SHARE has started community care and support programs for people already infected with the virus, as well as sensitization programs to reduce discrimination against the HIV/AIDS infected population. Within Japan, SHARE provides HIV/AIDS education for Japanese people and phone consultations regarding HIV/AIDS for foreigners.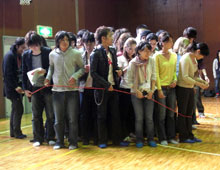 Photo: HIV/AIDS work shop at Shibuya University.
Tackling domestic health issues
SHARE puts as much emphasis on domestic health issues as it does on those encountered abroad. Currently, SHARE provides medical assistance to numerous foreigners living and working in Japan. Many of these foreigners encounter obstacles in their efforts to access adequate healthcare--including cultural and language barriers as well as with their legal status--and need a place to turn to receive health-related support. Additionally, through several other programs including HIV/AIDS consultations and health education programs, SHARE hopes to build awareness and sensitize Japanese citizens to global health issues, especially those prevalent in third world countries.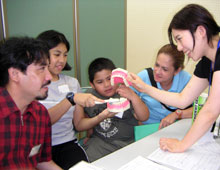 Photo: Free consultation for non-Japanese living in Japan.